In the vast world of dental solutions, dental implants have emerged as an excellent procedure, changing the way we address tooth loss. Dental implants are essentially artificial roots, usually made of titanium, that are surgically placed into the jawbone to support a replacement tooth or bridge. Beyond the cosmetic enhancement of one's smile, they also offer a host of health benefits, such as preventing jawbone loss and maintaining the integrity of facial structures. A successful dental implant not only gives you back your smile but also boosts your confidence and overall quality of life. 

Located in the heart of Claremont is our warm and inviting clinic, Ashton Avenue Dental. For over four decades, we've served our community, ensuring everyone walks away with a smile that radiates confidence. But what if you've lost a tooth? Whether from injury, decay, or gum disease, this setback is not the end of he road and we can get you back on track in no time with our premium dental implants.
Dental Implants: What Are They?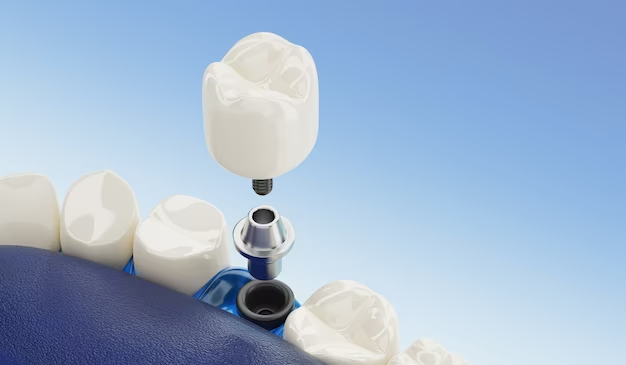 Losing a tooth can have profound effects, not just aesthetically but on the health of your remaining teeth as well. Dental implants stand out as a game changing solution. Think of them as artificial teeth designed meticulously to align with your natural smile. These implants are securely anchored into the jawbone, ensuring they blend seamlessly and functionally with your existing teeth.
Tooth Implants: The Procedure
Embarking on the journey towards dental implants can seem daunting, but here's a simplified step-by-step overview:
Initial Consultation: Here, our experienced Claremont dentist evaluates if dental implants are a suitable choice for you, using advanced CBCT scanning technology to gain detailed insights.
Treatment Planning: Depending on your specific needs, a personalised implant treatment plan is prepared.
Surgery: The core of the process – placing the implant into your jawbone with precision and utmost care.
Healing Period: As the implant fuses with your jawbone, a healing period of 3-6 months is expected.
Placement of Abutment and Prosthetic Tooth: After ensuring secure integration, abutments are attached followed by the prosthetic tooth.
Follow-Up Appointments: To ensure longevity and optimal function of your implants, regular check-ups are paramount.
All-on-4™ Dental Implants: The New Innovative Solution
All-on-4™ dental implants represent a cutting-edge solution for those with significant tooth loss. This procedure involves replacing all of your teeth using just four strategically placed implants, allowing for a full-arch restoration. It's the perfect solution for those who thought they might never smile confidently again. Not only does this method offer a natural-looking solution, but it's also stable, long-lasting, and can significantly improve overall oral functionality.
Everything you need to know about All-on-4™ Dental Implants
How Much Do Dental Implants Cost? All-on-4™ Dental Implants
Investing in your oral health, especially with procedures like the All-on-4™ dental implants, might raise concerns about affordability. But at Ashton Avenue Dental, we believe in bridging the gap between quality care and financial accessibility. We ensure every penny spent gets you the premium care you deserve.
Understanding that there are a diverse range of financial circumstances with all of our patients, we have a plethora of flexible payment options tailored to suit every budget. This includes payment plans through Denticare and NDP. Moreover, we warmly welcome all major Health Funds and are the preferred providers for Bupa, HBF, and HCF making the cost of All-on-4™ dental implants and all other types of dental implants more affordable. Dental implants represent not just a momentary expenditure, but an enduring investment in your oral and overall well-being.
Why Choose Ashton Avenue Dental, Perth for Dental Implant Treatment?
At Ashton Avenue Dental, our dental implants are more than just a procedure to get out of the way. Our dental implants come with the assurance of restoration, reliability, and rejuvenation. For four decades, we've stood at the forefront of dental innovation in Claremont, making us pioneers in delivering this transformative treatment. Our state-of-the-art dental implant technology is combined with a deep-rooted commitment to personalised care. Every implant journey with us is met with meticulous planning, precision, and, most importantly, a dedication to your comfort. With our experienced dental team, you're not just getting an implant; you're gaining a partnership for lifelong oral health.
Trust Ashton Avenue Dental for Dental Implants
At Ashton Avenue Dental, your oral health is more than just a professional commitment – it's a personal one. Remember, you're not just another appointment in our books; you're family. Ready to explore dental implants or other treatments? Contact our welcoming team at (08) 6183 3800 or book an appointment online, and let's bring that radiant smile back to life.